Chick started his legacy with fine shoe repair. He always wanted to provide a solution that combined strength and fine finishes.   His goal was to refurbish shoes to look like new and wear better than anything you could buy. Chris and Cj will continue to keep his legacy going, but will begin taking in minimal repairs from now on.
Chicks Shoes is offering a limited repair service.
There are no longer scheduled completion dates on repairs.
All repair are "call when done" (Please do not call to check the status of the repair)
As an alternative to shutting down the repair department, we are continuing to provide these repair services as a courtesy to our valued customers.
Pre-payment on all repairs is due when the shoes are dropped-off.  Shoe shines can sometimes be turned around more quickly depending on the current work load.
Half Soles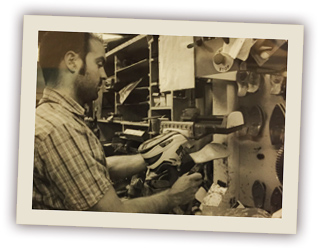 Half soles are provided to replace the worn area on the front of dress and casual shoes. This brings the wearing surface back to new and renews the look of the sole's edge. The two popular options are leather and composition (rubber). Suede leather is available upon request for dancing and bowling shoes.
Half soles made of:
Leather
Comp rubber
Soft rubber
Topy elysee
Dance leather
Anything Vibram makes
Full Soles

Full soles of everything you could want:
Work boots
Dress shoes
Walking shoes
Slippers
Hiking boots
Sandals
We have a large inventory of Vibram, Topy, Goodyear and other high abrasion soling.  We have proprietary materials unique to our shop that you will not find in other shoe repair shops.
From high traction to high cushion to high end dressy , we strive to help find you just the right material for the job.
We are also factory endorsed by Finn Comfort, Naot, & Neil M.   We conduct repairs using the same factory original soles provided by the manufacturer.
Heels
We can replace heels, from high abrasion through high shock absorbing.  Heels can be replaced when new with rubber or a combination of leather and rubber upon special request. Smooth and suede leather are also available.
Tips

Tips are available in leather or protective hard-wearing pico.
Chick developed the pico tip from his own unique material in the 1950s. These are a must for all pointed toe shoes and shoes that are regularly worn. The pico tip replaces the original leather or rubber with a hard wearing plastic-like surface. The edge of the tip is blended to match up seamlessly to the original sole edge while the wearing surface is kept thick at the point of highest wear.
These tips maintain the original look of the shoe while extending the wear life tremendously. A wise investment for quality shoes.
Non-slip protective soles
We use the best available protective sole material for our non-slip protective half and full soles. Protective soles are most commonly applied when the shoe is new or lightly worn. This is a wise move for someone who wants to preserve their shoes and gain traction at the same time.
Note – Some shoes are not designed or not built out of materials that allow them to be repaired successfully.  Come by at your convenience during our business hours and we will inspect them.  We will give you a price quote based on that evaluation.
Repairs we DON'T do: 
Saddle Repairs, Furniture, Auto & Boat Upholstery, Dye shoes/Handbags, Refinish Leather.